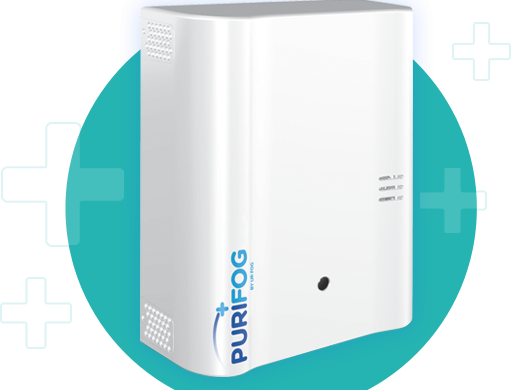 Purifog AIR
PuriFog AIR
The only fog system to clean and hygienize the air
PuriFog AIR cleans and hygienizes the air of 99.9% of viruses, bacteria, micro particle pollution and Covid-19
Designed to protect your health
Covid-19 is proven to be suspended in the air attached to micro-pollutions from a few hours to days. Therefore, to protect your health it is essential to clean the air.
Purifog AIR cleans and hygienizes the air of 99.9% of viruses, bacteria, micro particle pollution and COVID 19. A completely NON TOXIC mechanical action which you are safe to be in for up to 1 hour.
Purifog AIR is up to 1700 times more effective than a standard spray system. Our 1 micron sized particles will drag any micro particle down to the floor ready to be disinfected.
Purifog AIR also leaves a micro-thin layer of mild disinfectant on all surfaces for prolonged protection. Purifog AIR is a dry fog and safe to use over, PCs, electronics, paperwork, clothing, furniture, and leaves no visible residue.
PuriFog AIR is designed to clean and hygienize any professional or domestic environment with an estimated efficiency of more than 1700 times higher than a normal spray. This is due to the micron-sized fog droplets, that uniformly disperse in the air, reaching all horizontal and vertical surfaces leaving nothing untouched.
Standard Spray Systems generally produce millimetre droplets that settle very quickly on horizontal surfaces and have a very low diffusion due to their size and weight. Therefore the likelihood of capturing particles suspended in the air is very low. As a result, it is extremely difficult to achieve a good hygienisation of the environment treated.
Standard Spray System 

PuriFog Air

        
Captures all Airbourne Covid-19 in 30 seconds
The thermospray generated dipropyleneglycol / quaternary ammonium compounds aerosol Purifog apparatus, suggested for the capture of airborne infectious aerosols, has the number size distribution reported in Figure 3, if used at the suggested dose of 1 gram per cubic meter. The total concentration in the accumulation range (0.3 – 3 micron) is 1,109 particles cm-3 just after spraying. With this aerosol concentration the lifetime calculated is 3 seconds.
With these lifetimes, a potentially infecting population of particles with the concentrations reported above can be 99.9% captured by the propylenglycol/quaternary ammonium compounds aerosol in ten lifetimes, namely 30 seconds.
—————————————————————————————————————————————————————————————————————————-
The Sanitisation Process
Where does PuriFog AIR sit in the sanitisation process?
1. Air cleaning and hygienizing
It cleans and hygienizes the air by encapsulating all microparticles including viruses bacteria and Covid-19 within the Purifog AIR and then depositing them onto the surfaces.
2. Surfaces cleaning and hygienizing
PuriFog AIR contains surfactants which deposit evenly on all surfaces. This component helps all cleaning products to remove the dirt by passing a damp cloth.
3. Surfaces disinfection
To complete the sanification cycle, you can use any disinfectant product from the supermarkets suitable for all surfaces.
For More Information – Please Get In Touch . . . .